Sir Alex's favourite man to wear the Man United arm-badge for Manchester United this sesaon
It's right! Serbian defender is named the captain at the theatre of dreams in a rather shocking decision by Manchester United.
Ferdinand is the one with low morale.
Sir Alex Ferguson has today revealed that he would rather prefer Nemenja Vidic to the tired and the injury prone - Rio Ferdinand whose performance has been shattering and filled with silly errors in the recent past. Not to forget the careless blunder goal he gave away to Manchester City winger Craig Bellamy. Rio is least likely to forget that night. He has been found guilty of getting booked too much - something you do not want your Captain to do. He has been careless over the months and it is a proud moment for Nemenja Vidic to be the next captain of Manchester United. Recently, Vidic has looked in solid form as United challenge Liverpool to win Premiership for the 19th time.
One would compare Rio Ferdinand to his English Counter-part striker Michael Owen. Both get caught in the sting of injuries a bit too much although the former is very aggressive and lousy. Both Owen and Ferdinand used to be great at their times. Rio Ferdinand (31) has been a product of West Ham United and came to United only in 2002 when United were in a defence turmoil. He has scored a few important goals for United and he shall definitely be remembered for that.
However now Nemenja Vidic, once linked with Barcelona FC for the summer transfer has established himself at United. He is only 28 years old and has his family supporting him in the city of Manchester. His family would any time prefer to move to Spain but Sir Alex is very keen on Nemenja Vidic. According to Mike Phelan, Nemenja Vidic is "Sir Alex's favourite man".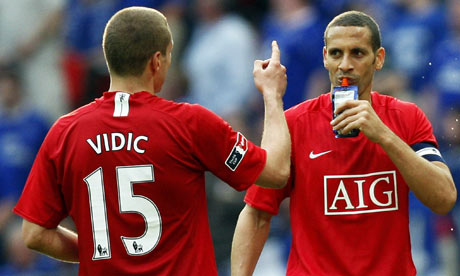 "On yer bike son"
Vidic is the defender to watch out for. He may have a tough time against Liverpool but otherwise he's pretty much rock-solid. Glory Glory Nemenja Vidic - the next captain for Manchester United. He will certainly agonise Rio Ferdinand but it would be good to watch how Rio reacts. He normally shouts to his partners, the sound of his roar just might not be of the same frequency after the weight of the arm-badge doesn't bother him any more. Any how, it was great to see Rio captain, now lets leave it upto Captain Vidic!