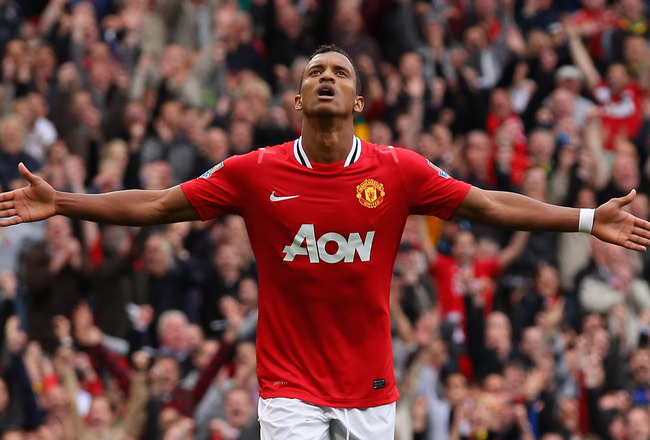 Talk of confidence and player growth, and only 1 name will come in your mind - Manchester United's no. 17 Luis Nani.
--> Nani's 2nd goal against Chelsea, 8 minutes from 1st half killed the opponent before they could recover from Chris Smalling's 8th minute opener.
This game marked Nani's 100th MUFC PL appearance, taking his goal tally to 19 and a total of 33 assists. Interestingly, Sky Sports compared Nani to his Portugal counterpart and Manchester United's previous no. 7 - Cristiano Ronaldo, or as fans called him CR7. And it turns out Nani's first 100 Premier League performances gained him better results compared to Ronaldo's performance during that period. As Skysports pundit, Gary Neville said "Ronaldo took his time to settle at United".
Ronaldo who?
Nani, on the other hand was given scarce chances since his arrival from Sporting CP in 2007 and it was only since the start of 2010-11 season, that he started to appear on MUFC team sheet frequently. Obviously, the last season was the most fruitful for the Portugese as he got capped 33 times out of a maximum 38 and scored 9 times with 20+ assists.
Well done Luis Nani, we at TRDS would like to congratulate on your 100th PL league appearance, may there be 900 more and may you become a no.7 soon, even better than CR7.
Finally check out the refreshing goal Nani scored against Chelsea at the weekend, celebrating his 100th PL game in SOME style!
We'll leave you with the goal below but the bottom line is that Nani owned Chelsea's defence! and oh boy what a cross from Jonny Evans! Doesn't it remind you of Scholesy for a moment?

UPDATE: OK THE VIDEO MAY HAVE BEEN TAKEN OFF, BUT KINDLY ENJOY A COMPILATION FROM' Bachka Ch'