Current Champions Chelsea clash horns with the league leaders Man United
CHELSEA vs MANCHESTER UNITED
Where to watch: Live at Sky Sports 2 and Sky Sports 2 HD (UK)
Manchester United are all set to take on Chelsea at Stamford Bridge tomorrow in a start of would could be a row of difficult fixtures. After Stamford Bridge, United travel to the Scousers ( other name for Liverpool fc ) five days later; a week after which they could face Arsenal in an FA Cup clash. If United face Arsenal on the 12th, then the Gunner's probability of winning a trophy this season will come down to one-half. No wonder the Gunners boss Arsene Wenger was dreaming of 4 trophies this year and beating United's Treble (Red Devil's class of 1998-99). Suddenly it's come down to three and I'm 100% sure it will be 2 when Arsenal face us on the 12th if not sooner i.e if Leyton Orient don't defeat Arsenal at the Emirates!
Moving over to the Bridge clash, Manchester United will go there with huge confidence after defeating their favourite rivals - Wigan Athletic at their home with 4 goals to nil. Before, that they faced a tough 0-0 draw against a resilient Marseille.
The only concern for United so far this season has been the away games. The Red Devils have only managed 9 victories in the 19 away fixtures they've played in all 4 competitions so far this season. That statistic definitely has to improve and there is no better chance than Stamford Bridge where United's form has been utterly dismal. United last managed a league victory at the Stamford Bridge back in 2002 (thats 8 years from now) which is indeed a shameful fact.
United started the season brilliantly by defeating Chelsea 3-1 in the Community Shield charity game just prior to the season with goals coming from Antonio Valencia, Berbatov and Chicharito Hernandez (Watch all the goals below). Berbatov killed the game in the end by scoring a lovely clip over goal. Elegance at its best! But Chicharito (Javier Hernadez) stole the show by scoring a goal on his debut and that too coming off his face! This shows that the mexican's face is good enough to face Chelsea..


Manchester United:
Van der Sar; O'Shea, Smalling, Vidic, Evra;
Nani, Fletcher, Scholes, Giggs; Berbatov, Rooney.
| | |
| --- | --- |
| Chelsea: Cech; Ivanovic, Luiz, Terry, Cole; Essien, Mikel, Lampard; Anelka, Torres, Malouda. | |
(Credits to www.goal.com for the line up)
Match Build up in Pictures:
Torres has always found Vidic vulnerable and been successful in getting the Serb sent off
Let's hope Captain Serbia can handle the Spaniard well whose no longer a Scouser.
Frank Lampard would be available for the clash.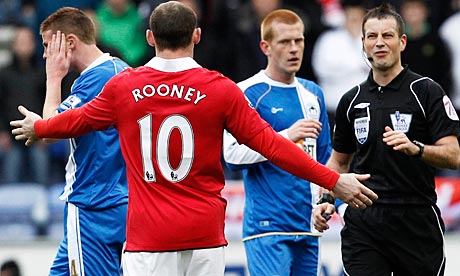 Rooney is all clear to face Chelsea as he escaped a fine and a ban after elbowing Lactics' player James McCarthy
This stupid man nearly killed a work experience student at Chelsea's training ground!
This adds to his negative image after break-up with Cheryl Cole!!!
John Terry, Chelsea' captain, recently said that Chelsea can catch-up. SERIOUSLY JOHN?
Chris Smalling is all set to start tomorrow's game and in my opinion he's doing a wonderful job in Rio's absence
Mexican striker has already scored an un-orthodox face goal against Chelsea in the Community Shield and is ready to wait before Sir Alex gives him another chance.
Torres in Blue: He will certainly be the man to watch tomorrow! Hope Vidic can face him!!
That's all for today's Preview guys, hope you liked the facts and the interesting pictures. Looking forward to entertain you by HD highlights as soon as the game finishes tomorrow.
TheReDevilSpot predicts a 3-1 win for United with goals coming from Nani, Hernandez and Rooney.
Have your say by commenting below and post your predictions!!
GLORY GLORY MAN UNITED.

Liked the article? Share it with your friends!