Dimitar Berbatov has pledged to score another 20 goals this season as United gear up for Premier League, FA Cup and Champions league titles!
Striker Berbatov spent most of Saturday's Manchester derby on the bench as Wayne Rooney grabbed the headlines with his overhead wonder goal.
"Everything's going well for me this season and if we can win the title it will be even better.
"That's my main wish. If in May we've won the title and I'm there to lift it, then it would be a personal best for me.

"Winning the 19th league title is very important at Manchester United. I'd love to do that for Alex Ferguson, who's been here almost 25 years, as well as my team-mates and the fans."
Berbatov has notched 20 goals this season and hopes to double that number by the end of this season with some crucial League, European and FA Cup games lined up in the coming future.
He said: "We still have a lot of games left in the league, as well as matches in the FA Cup and the Champions League. We want to reach the final in both those competitions, so that gives me plenty of time.
The Bulgarian striker is now on a newly renewed 5 year contract with United until 2015 is also rumoured to be offered a new deal soon. This may be a massive salary of £175,000 which would still be a good £75,000 short of Rooney's who has only scored 6 goals so far this season.
2009/10: A Sad, frustrating season for Berbatov
Little was known until the end of last season if Berbatov would even stay at United as media and United supporters constantly criticised him. But it seems like the start of the season has ended all his bad days as whatever the lad touches transforms into a goal - something really missing in the previous season. One reason why I think Berbatov failed to scored very often last season is the confidence factor. He missed too many simple chances.
However, this season, things have been very different as he started off very brilliantly in the Pre-season USA tour where he scored the first goal of the tour against Celtic in a 3-1 victory in Toronto. Watch Berbatov's skilful video against Celtic by clicking here. So far this season, Dimi has scored 20 goals in the season and managed three impressive hat-trics! God knows how many are still in store.
A cause of concern may be his consistency. Out of the 20, he's scored 11 goals in 3 games through 3 hat-tricks. Whereas in the other games, he's just been a bit too erratic. So for the remainder of the season, he really needs to find the back of the net more often.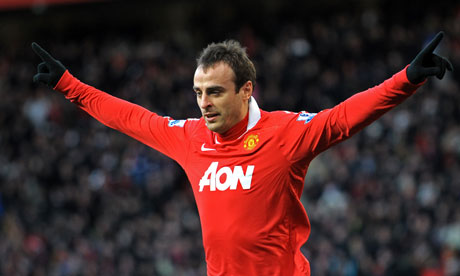 2010/11- Berbatov's time to shine!
Surely if he can score 5 goals in a single game (7-1 victory against Blackburn, watch highlights here) he can easily score 20 more in about 20 games?
Berbatov was clearly impressed with Rooney's winner in the 2-1 victory over arch-rivals City.
He said: "When you consider all the attributes forwards need, Wayne is No1 in my opinion. He's the best forward I've ever played with."
All credit goes to Sir Alex Ferguson for having faith in Dimitar Berbatov's ability.
Glory Glory Man United!!!!!!!!!