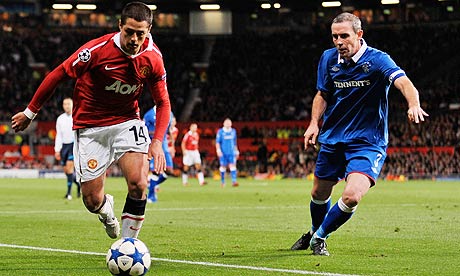 Javier Hernandez will skip his usual pre-match Catholic prayer at Ibrox where there are plenty of anti-Catholics
Javier Hernandez maybe forced to abandon his pre-match Catholic prayer when Manchester United face Rangers in Glasgow on Wednesday week.
Deeply religious Hernandez – nicknamed Chico – kneels on the centre spot and prays before kick-off in every game he starts. But it is believed United boss Alex Ferguson – a former Rangers player – will advise the 22-year-old to ditch his ritual at Ibrox.
Rangers fans have already vowed on websites to target Hernandez if he goes through his normal routine and that will worry Ferguson who is anxious for United's visit to pass peacefully.
Javier Hernandez aka Chicharito is devout Catholic
Rangers officials say there is no question of them banning Hernandez from his usual pre-match routine, which he started in his native Mexico.
But he runs the risk of antagonising anti-Catholic Rangers supporters if he is included in boss Ferguson's line-up when the teams meet at Ibrox.
Hernandez played against Rangers at Old Trafford but Ferguson realises the atmosphere

is far more volatile in Glasgow, notorious for religious sectarianism.
Does this indicate that Sir Alex aims to start with Rooney and Chicharito up front and ditch Dimitar Berbatov?
We will find out soon enough tonight!