Liverpool 2-0 Manchester United
It was one of the most dreadful afternoons Manchester United has ever had as they suffered a yet another mirror cracking display from the neighbourhood rivals.
Gerrard with his hot wife - Alex Curran in stands
Torres's 80th minute goal, nearly dismantled United's defence
Now this is a yellow card offence, no?
This is such a normal site these days.. Owen on for Berba (ranked 4 by goal.com SHIT!)
Owen in action
Rooney shows his justificable frustration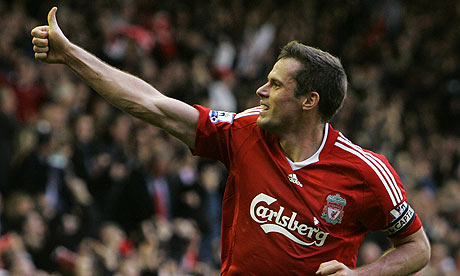 MAN OF THE MATCH!
MATCH REVIEW
It was one of the worst performances ever seen from United this season and that too against one of the most successful teams in the Premier League - Liverpool! Liverpool have gained some solid form at a time when they were about to break down like a car breaks down at the beginning of a long journey. One felt that if they lost this one, their Premier League title hopes will certainly be over.. So there was a huge pressure on Rafael's men. Torres gave them an unassailable lead.
Rooney didn't get much support from his defenders and mid-fielders. Giggsy looked rusty and was clearly unable to break into the Liverpool defence. Berba was literally the waste-man of today's game. Valencia missed a superb chance when the ball deflected off the cross bar. IT WAS MIGHTY CLOSE! Thanks to Van Der Saar who made some remarkable saves in the 1st half but couldn't get hold onto Torres' lovely goal.
All in all, the match reminded me of the UEFA Champions league final which United lost 2-0 in a similar fashion.
In this game VIDIC got red-carded third time against Liverpool in a row! Also, Mascherena got sent off in the stoppage time of the 2nd half. So both these things repeated in this game.
Now, United need to focus on the mid-week Carling game against Barnsley.
Until then, GLORY GLORY MAN UNITED!
PLAYER RATINGS FOR MAN U
1)
Van der saar
- 7 - Made excellent saves
2)
Evra
- 6
3)
Vidic
- 5 - Effectively Useless and continued his red card record with the reds
4)
Ferdinand
- 6- Couldn't stop Torres from scoring
5)
O Shea
- 6
6)
Scholes
- 7 - Passes around the ball excellently
Nani
(sub) - 5
7)
Valencia
- 6 - Average
8)
Carrick
- 6
9)
Giggsy
- 6 - I wish he took more responsibility
10)
Berba
- 3 POOR!
Owen
(sub) - 6 - Stopped by enemy Carragher who was yellow carded. That could have been an effective equaliser but all went wrong for United today :(
11)
Rooney
- 7 - I wish he got better chances from the back.. This performance really reminded me of the 2-0 Barca Lose.