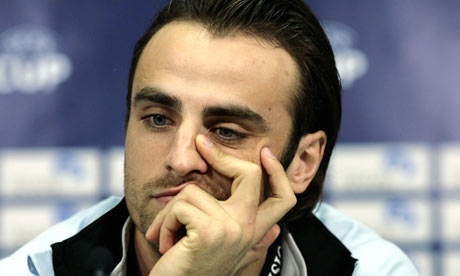 In an exclusive interview with the Sun newspaper, Dimitar Berbatov has admitted that he failed to live up to his own expectations during his first year at Old Trafford. The bulgarian scored only 11 goals in 34 league games last season following his £30.75m move from Tottenham Hotspur.
"In my first year I was disappointed in myself. I need to say that," Berbatov said in an interview with the Sun. "It was a big pressure for me and maybe I failed myself. I think I wanted to prove myself to these supporters.
"You must remember, they are used to Best, Charlton, Cantona. I am just Dimitar. I got a number of assists, but I must score more goals.
"I don't know what I am doing wrong sometimes. Maybe it's luck, maybe it's me ... who knows? At nights I have stayed awake thinking: 'You could have done this instead.' My nerves were too much and that is my responsibility."
Berbatov defended himself against accusations of laziness, claiming that by the end of last season he was fourth on the team for distance covered on the pitch and acknowledging that he can be "a bit of a nerd" when it comes to checking such statistics. Nevertheless, he said it was his own fault if supporters perceived him that way.
"That is my fault, not theirs," he said. "It is me who must change. "Manchester United are their club. They have treated me perfectly since I came."
After scoring his second goal of the season during United's 2-0 win over Stoke on Saturday, Berbatov believes he has been in better form this year.
"I am more pleased with my overall game in this second season already," he said. "I feel that I have integrated myself better into the team. I am much stronger, much fitter. But I still wish I could score more."
So is it mere sarcasm or has Berbatov yet to prove his "worth" Ha!
Stay tuned to find out more and the build up to Sunderland at home. Take care!