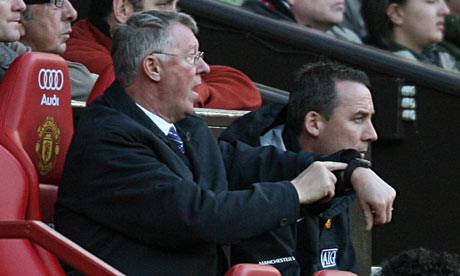 Alan Wiley, the official accused by Sir Alex Ferguson of not being fit enough to referee, ran farther than all but four Manchester United players during the 94 minutes of the game against Sunderland.
The FA has written to Ferguson asking him to explain his comments about Wiley by next Tuesday. The United manager could yet be charged with improper conduct.
Before he composes his reply, the Scot may want to consider that Wiley, The Times has learnt, outdistanced the average player in the 2-2 draw on Saturday by 205.8 metres. Refereeing officials believe that Wiley's official ProZone statistics from the match at Old Trafford "100 per cent" disprove Ferguson's claims that the Staffordshire referee "just wasn't fit enough".
Wiley covered 11,039.1 metres, the eighth farthest of any individual on the pitch. "Eighth is entirely credible," a refereeing source said yesterday. "He had a bloody good game."
ProZone shows that only four United players and three from Sunderland ran farther than Wiley, 49. His average distance from the ball was 17.7 metres. Elite referees in England are allowed an average of up to 20 metres.
Concern is growing among the close-knit refereeing fraternity about the long-term effects of constant criticism from managers, especially Ferguson. Several leading referees, including Graham Poll and Mike Riley, have retired in recent years in part because of the persistent sniping.
"They're getting sick of it," a senior refereeing source said last night. "Ferguson is the past master. It deflects any criticism from his team and players and he succeeds every time. Why doesn't he just talk to the match delegate?"