Injured Manchester United star midfielder Owen Hargreaves has returned to England after spending six weeks in Vancouver on a rehabilitation program supervised by renowned physiotherapist Alex McKechnie.

The 29-year-old Calgary-born Hargreaves - an English international - has seen very little action the past two years as he tries to recover from career-threatening tendinitis problems in his knees. McKechnie confirmed his recent work with Hargreaves in an interview Monday from Los Angeles, where the Vancouver-based core training expert works as athletic performance coordinator for the Los Angeles Lakers. He said he and Hargreaves left Vancouver this past weekend.


"He's a superb athlete with a terrific attitude," McKechnie said. "We had maximum commitment with an excellent result. From a rehab standpoint, he has done very well."

He said Hargreaves sought his services on the advice of Paul Kariya and Steve Nash - other high-profile athletes McKechnie has worked with in the past. The former team therapist for the Canadian Olympic soccer program has also worked with Shaquille O'Neal, Matt Leinart, Jimmy Connors and Michelle Kwan during his career. He said much of his work with Hargreaves was based at the Lynn Valley Physiotherapy Clinic in North Vancouver and involved high-intensity, endurance-based work that lasted two to three hours a day, five or six days a week.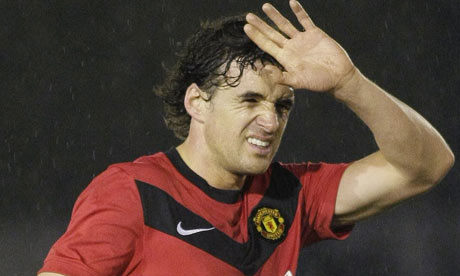 McKechnie's core training system is designed to build strength, power, endurance and coordination. "It has nothing to do with football," he said. "We don't introduce a ball into it. That's for coaches." Manchester United manager Alex Ferguson recently gambled that Hargreaves will return to playing fitness soon when he named him to his 25-man Premier League roster but did not name him to the team's Champions League squad. Hargreaves' knee surgeon - Colorado doctor Richard Steadman - recently said things are "looking good" for the midfielder as his fitness level improves but McKechnie said Hargreaves still needs to achieve certain fitness levels.


"No matter what he does here, there's no substitute for playing," he said.

Hargeaves has 42 senior caps for England and was arguably the country's best player at the 2006 World Cup in Germany.
Vancouver Whitecaps president Bob Lenarduzzi said the club was aware of Hargreaves' presence in Vancouver this summer but had no contact with him.

"It didn't seem appropriate because he's obviously putting all of his efforts into getting healthy for Man U," he said.

But Hargreaves' contract with Manchester expires next year so would the Caps be interested in his services one day?
"We'd love to entertain the idea," Lenarduzzi said. "Given his background, if he was thinking of coming back or moving on, we'd certainly love to chat with him to see what the level of interest might be.


Manchester United will return to Manchester United, Old Trafford soon after his injury 2 years ago and score against Chelsea. In this picture creative Portugese Cristiano Ronalod looks on Hargreaves.
Every Manchester United shall pray to see Owen Hargreaves in action this season and filling the creative defensive midfield void left by Portugese Cristiano Ronaldo after he went to Real Madrid.