Bad days come often in one's life,but Owen Hargreaves is having his worst days since a while. Suffering from a terrible knee injury, Hargreaves is facing more than just pain. He missed the WC 2010, but that is past, there are speculations that he would miss most of the Premier League.
Owen in action with MU's reserve team.
If Sir Alex Ferguson opts against naming the midfielder in his 25-man Premier League squad on Sept 1, the 29-year-old will be ineligible for league games until January and faced with the prospect of reserve fixtures and Carling Cup ties between now and New Years' Day.
By professing that he does not know whether he can afford to allot one of the 25 places to Owen Hargreaves, Fergie has almost wiped the mist off the dubious minds of fans.
Warming up for the 30 second display against Sunderland
There is no certainty about when Owen's nightmares would end,as its been 2 years since he has been howled by injuries,this one being the worst,because it seems like a wound on his otherwise excellent career.Since his last Premier League outing for United, a 90 minute appearance in the 1-1 draw at Chelsea on Sept 21, 2008, Hargreaves has managed 45 minutes for the reserves and less than sixty seconds as a substitute during the 1-0 win at Sunderland on May 2.
Although Sir Alex has described his omission as 'unfortunate', but he is helpless himself. With his contract ending with the end of the season, Hargreaves future seems to be forlorn.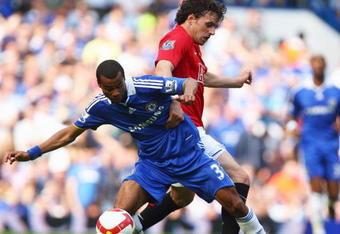 Hargreaves played Chelsea while he got injured in Sept, 2008.
Few fans have already started grieving for the loss of one of the best mid-fielders of present times,for the squad of Manchester United and England's National Team.Both the teams would still welcome him back,but Hargreaves has admitted himself that his surgeon, Dr Richard Steadman, claimed his knees were in as bad a state as any he had seen his career and sure that is not good news!
But the news can become sorrier for him,if Sir Alex refuses to bet on his future by putting his Club's future at stake.