Manchester United defender is back!
Following the tragic knee ligament injury while training session in Rustenberg, South Africa that killed off Ferdinand's 3rd world cup, the centre back is back at Carrington training ground in Manchester.
No hard feelings surprisngly!
According to Sir Alex, he has made a tremendous come back as the manager was expecting him at the
end of September.
How the injury happened? Well basically Rio was training and the big fat Emile Heskey gave him a nice jerk on his knee. Since then, 4th June 2010 has since then been the worst day for them.
Sir Alex "He wont't play against West Ham on saturday obviously, but we have to think when we can get a game in the next two weeks, he is THAT close. Rio has trained this week, he has surprised me with his progress, its fantastic."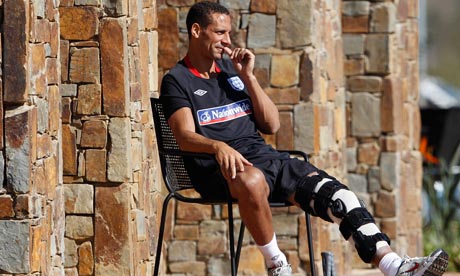 Perhaps thinking "Thank You Emile Heskey!"
Meanwhile the 31 year old centre back is all set to miss the Euro 2012 qualifiers against Bulgaria (3rd September) and Swtizerland (7th September)