PS: This is not a 3D picture.
Famous Canadian singer and actor Aubrey Drake Graham, better known by his mononym "Drake", is a proud Red Devil and was at Manchester United training ground in Carrington yesterday (14/01/2011).
He enjoyed catching up with close friend Rio Ferdinand and rest of the United squad and you would be surprised to know he follows Manchester United on a regular basis.
Rio and Drake together at OT
Manchester United now has about 7.7 million fans on Facebook. PS: Facebook is banned in certain parts of China and in a few Islamic countries.
The figure of 7.7 Million definitely exceeds most of the famous football clubs' fan base on Facebook. For eg Chelsea has only 3.3 M facebook fans. Real Madrid (7.6M) are quite close to us. However, there is still a considerable gap between Barcelona (8.6 M) and United. But having said United only recently launched their facebook page, it's not at a bad going for us! I'm sure in a matter of months, United will have a higher no. of supporters than Barcelona on Facebook.
Other famous Manchester United fans include:
1)
David Beckham - Ex United and England Mid-fielder. (As if no one knew it? xD)
2) Usain Bolt - Famous Jamaican sprinter and 3 times Olympic and World Gold Medalist. Also dubbed as the Fastest man on the planet!
Bolt has admitted that he would fancy playing for United one day! Let's hope he does!
3) Justin Timerlake - Singer
4) Brad Pit - Actor and partner of Angelina Jolie
5) Michael Atherton - Cricketer
6) Gary Rhodes - Chef
7) Danny Boyle - Film Director
8) Chuck Norris - American Martial artist and actor
9) MS Dhoni - Captain, Indian Cricket team
10) Robbie Williams - Singer
11) All members of Westlife Band
12) Kim Marsh - English actress and singer
13) Rory McIlroy - Northern Irish Golfer (won the 2011 US Open) - a die hard Red Devil.


and NOT to forget!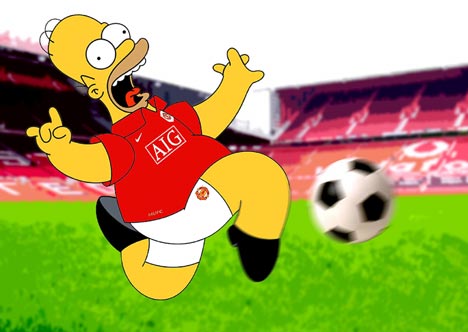 THE SIMPSONS!
Kidding! GGMU!!