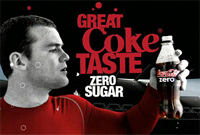 England striker Wayne Rooney has been dropped by Coca-Cola from one of its advertising campaigns in the wake of allegations about his private life.
The soft drinks firm said they "did not feel it was appropriate" to use him at this time on their Coke Zero packs.
Rooney, 24, and his wife Coleen have appealed for privacy after a series of lurid stories about the striker appeared in tabloids last month.
Coke is continuing to work with Rooney on a separate promotion.
In a statement, the company said: "Last month wae amended our marketing plans on Coke Zero. Given the situation at that time we did not feel it was appropriate to run an on-pack promotion featuring Wayne Rooney.
"Our relationship with Wayne Rooney is ongoing. We are currently working with Wayne on Coke Zero Street Striker - an award winning programme which over the past three years has encouraged thousands of young people to get involved in football.
"We are working on our marketing plans for 2011 and have no announcements to make at this time."
After a disappointing World Cup, Rooney has been off colour for Manchester United so far this season, failing to score in open play and recently caught up with a frustrating ankle injury.
He was left out of the squad for a trip to his former club Everton amid fears that he would be the target of verbal abuse.
Last week, Rooney said he was desperate to rediscover his best form and defended himself by insisting: "I'm only a human being."