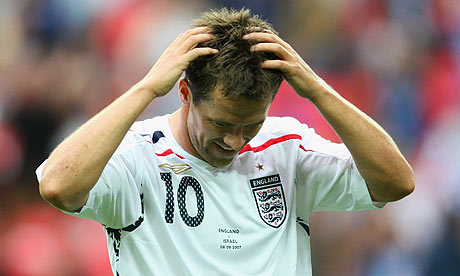 I
s it game over for Owen?
It is only November, and Jermain Defoe is already only two goals off his record English Premier League tally of 13 strikes with Portsmouth a couple of seasons back.
The pint-sized striker was simply on fire as Tottenham Hotspur struck nine past Wigan Athletic at the weekend, bagging five for himself—but will it have impressed England boss Fabio Capello?
A simple answer would be—I'd blooming well hope so.
What Capello wants up front for England
It is exactly what England needs—one of their best strikers in the form of his life in a World Cup year, and it must now be pretty certain that barring injury, the 27-year-old Defoe will board the plane for South Africa in June.
Sadly for some English die-hards, the form of Defoe has simply snuffed out any chance Manchester United's Michael Owen has of making the trip.
England's other classy diminutive striker has zero chance of playing the best football of his career over the next six months and competing for a place with the Spurs star, as those days are definitely behind him.
However, had plenty of England's strikers been misfiring this season, I'd have definitely stuck him on the plane, but there is only room for one poacher in a World Cup squad and the finishing (the best England has, according to Spurs boss Harry Redknapp) of 38 times capped Defoe has already sealed his place alongside Wayne Rooney, although he is still unlikely to be next to him on the pitch in SA next year.
Despite his form, Capello has shown he is no fan of small strikers since taking over as England boss, and Defoe, with 11 international goals already to his name, will likely have to make do with a role off the bench behind Rooney and a bigger striker, possibly Emile Heskey, at the World Cup.
But nothing in football is ever set in stone. Only Defoe can keep Capello's mind ticking over.
Now only injuries can HELP Michael Owen.. Of course not his own, but other strikers like Defoe, Crouch, Heskey. But I earnestly hope that he earns his well-deserving place on merit!
Glory Glory Man United!!!!!!!!