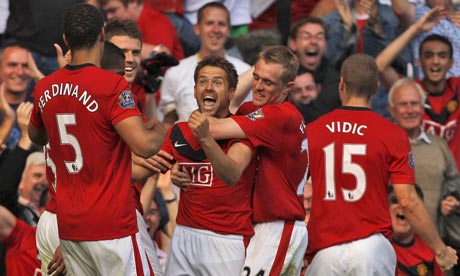 The number of late goals scored by Manchester United FC this season have been astonishing!

Leaving apart the fantastic football they've played so far this season, I would like to touch upon two things that the Red Devils have done very masterfully this season - something that is pretty hard to find so consistently and yet has become an avatar for modern football.
Fact Number 1: The number of goals scored in the final 15 minutes this season:United have scored a whooping 22 goals this season in the last 15 minutes of the game (last final minutes exclude the extra time). You can call United dormant, you can call them lazy or whatever you want. But the fact remains : they never give up. Whether they're winning 3-0 at Wigan, they still added two more (1 from Owen and the other from Nani's free kick) or they're losing 3-1 to CSKA Moscow, they really put up a show with a fighting spirit. The leading scorers in the final minutes are Michael Owen with 3-4 goals, Valencia and Scholes... Wayne Rooney and Berbatov have found the back of the net in the dying minutes of the 2nd half too.

If you add all the goals United have scored this season (53 after the Hull game) you will see that United have scored 41% of the goals in the last 15 minutes of the game! Now this is incredible... I wonder if any other club has managed to do this ever. I really need to dig down into statistics... It will be interesting to see how other clubs react to this post.. maybe they've got something to say on this..

Sir Alex Ferguson has been concerned with the amount of extra time his team gets this season.

2nd Interesting Fact: United have got so much extra time (esp in the 2nd half) I'm not saying it's controversial or anything but a great secret that lies behind these late goals is that United have been blessed with a lot of extra time at the right time in the right game. For example in the Manchester derby, United were given a total of 7 extra minutes. You get to see 4-5 minutes easily in a Manchester United game. Now this is astonishing..

Feel free to leave your comments. Even if you're not a Man United fan, your comments about your club's performances will be happily accepted