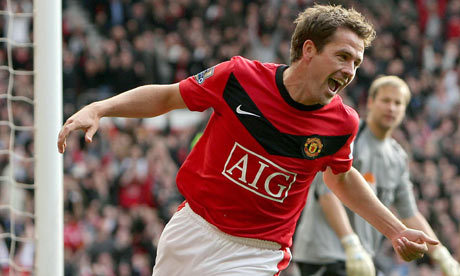 Triple delight for Michael Owen!
Wolfsburg 1-3
Manchester United
It was great to see Manchester United today. They had a very different squad and still managed to sneak in another memorable victory in Germany tonight.
Fletcher and Carrick were Central defenders whereas Park and Evra took the left back and right back responsibilities. Kuszack was in goal.
An interesting revelation: In the last 4 games United have played the Polish goalkeeper in Goal, they have only conceded twice and scored 13! This includes the hat-tricks scored by Rooney and Owen. So, the Pole has brought some great luck for United.
United's back 4 looked extremely comfortable eventhough Wolfsburg created some threats.
Gibson got a great chance to score for United again from a similar position for which he is famous for, but missed it drastically.
The last minute of the 1st half saw a great cross from Nani which was headed successfully by Owen in the goal.
The Germans came back strongly in the Second Half with an early equaliser from the United wannabe Dzeko. Wolfsburg started looking threatening from then.
Valencia came on for Nani and Obertan replaced Welbeck. Obertan delivered a lovely low cross to Owen who did no mistake in scoring his 2nd goal of the game! It was a lollypop really; really easy finish.
Owen's 3rd goal was the best! He had a great pass from back and was 1 on 1 with the Wolfsburg goalie. He eventually scored by curling the ball over the keeper. It was really a cool goal!
The Hat-trick was really an easy one, there wasnt really much effort in it. It was all about the classy finish that Owen is most famous for!
Well done Michael, hope Fabio capello was watching you.